The Neolithic village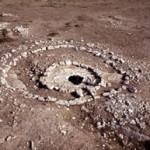 Menu> To visit
Jazzo Gattini (visitor center)
Visitare Parco Murgia Materana
Masseria Radogna (visitor center)
The Neolithic village
San Falcione
San Vito
Sant'Agnese
Our Lady of the Three Doors
Madonna della Croce
St. Nicholas Appia
Visit Matera
The Neolithic village
In the stone age (between 7000 e  3700 years ago) the area was affected by early materana and stable human settlements, organized as villages with walls and trenches for defense, huts, was for food, furnaces and tanks.
Neolithic villages are, located on the plateau murgico, inhabited by those we can define the first farmers of Italy, that people who practiced agriculture, l'allevamento, grinding of stone axes and pottery-making.
Along the stone wall that surrounds the park along the west side Radogna, is reached after about 200 m, the interesting Neolithic settlement of Murgia Timone, the first of the villages discovered by the archaeologist Matera Domenico Ridola.
The village is fortified by a moat-shaped 8 dug into the rock calcarenites and then divided into two sectors: a more Eastern 'small and round and a more Western' large and oval.
The moat is now largely covered by debris accumulated over thousands of years, except in the areas studied in the various archaeological digs that have occurred in 900.
Seeing these traits found in the moat can detect trends in the shape of 8.
The total perimeter is 664 meters and encloses an area of over 20.000 square meters.
In the eastern sector liberated from the rock surface layer of soil pits show support poles of the huts, and larger holes used for storing foodstuffs,burials , and what he called the Ridola lunette, a special device that allowed the entry of the ditch in the eastern sector of the village.
Inside the moat were found, numerous exhibits, mostly pottery graffiti, with different geometric, narrowband and painted red or brown.
Were also found fragments of vases painted graffiti inside and outside, other bearing stylized human faces;
finally stone tools made of flint and obsidian, as blades, grattatoi and punteruoli, three polished stone axes – and bone spatulas.
In the same area during the Bronze Age, with the village now in disuse,were excavated three underground burial (tomb Grotticella).
In particular in the largest tomb near the western entrance of the village, two concentric circles of stones are crossed by a corridor leading straight hypogeum Central. The shape of this enigmatic mausoleum certainly linked to solemn ritual prehistoric, still prominent archaeologists and scholars continue to question.
Another Neolithic settlement is surrounded by a moat in the nearby district of Murgecchia.
It also consists of two defensive ditches, almost concentric, complete the unfinished interior, exterior and shows within the area bounded by the inner moat of the testimony of the ancient neolithic huts.
These villages are part of the broader phenomenon of the population of Matera in the Neolithic time to reach maximum development.
Murgia offered, in fact, conditions very advantageous to the prehistoric populations: easy plateau pastures, fertile land for agriculture in lowland areas near water courses, large area boschive sulle low hill.