Jazzo Gattini (visitor center)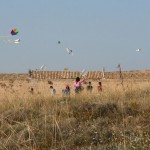 Menu> To visit
Jazzo Gattini (visitor center)
Visitare Parco Murgia Materana
Masseria Radogna (visitor center)
The Neolithic village
San Falcione
San Vito
Sant'Agnese
Our Lady of the Three Doors
Madonna della Croce
St. Nicholas Appia
Visit Matera
Jazzo Gattini (visitor center)
Jazzo Gattini, is an old sheepfold renovated nineteenth century, headquarters of the Park visitor center.
Located in area Murgia Timone, scenic area in front of the Sassi of Matera, very representative of the entire protected area.
Access to this area of the park is free.
For better organization, However, it is advisable to start from the visitor center and halls of presentation of the Park.
The hotel is open all year and entrance and 'free. And 'possible after the opening call to book outside of schedules.
The itinerary
Jazzo Kitten is the ideal starting point for the itinerary of visiting:
- The Neolithic village of Murgia Timone with the remains of residential structures, production and burial of people who between 7000 and 3700 years ago, lived Murgia. Nell'area del villaggio insiste anche un sistema di tombe dell'età del bronzo e del ferro.
- Farm structure Radogna rural middle 800 surrounded by beautiful stone walls and olive trees, almond trees. They also visited the quarry of limestone blocks in the farm house and a cave remains of the first pastoral settlement agro forestry;
- The Gravina of Matera in its spectacular panoramic stretch in front of the stones with numerous caves pastoral.
- Pecchiara (Apiary) con annessa chiesa rupestre medievale di San Falcione, complex of the ninth century. with traces of frescoes, subsequently transformed into pastoral structure;
- Chiesa rupestre di Madonna delle Tre Porte con affreschi realizzati in un arco di tempo tra il XIII ed il XVI secolo;
- Rock church of Madonna delle Croci wonderful Byzantine frescoes of the Madonna and Child with the archangels (XIII sec.)
- Harvesting systems cut in the rock
SERVICES CENTER OF VISITS:
- Tourist information
- Guided tours in Murgia Timone
- Ticket cave churches of Murgia Timone
- Trasfert con bus navetta
- Bar
- tastings of local products
- Selling books and crafts
- Video library of the territory
OPENING HOURS
Open all year
From November to March
9.30 – 13.00 (9.30-15.30 on weekends and holidays)
From April to October
9.30 – 14.30; 16.00 – 18.30;
By appointment outside opening hours
Contact
Jazzo Kitten / Farm Radogna (c.da MurgiaTimone)
info@ceamatera.it
Tel. Fax 0835/332262 0835/1970751
Cell. 388.8925407 Cell. 320.2636528
HOW TO REACH U.S.
A 5 minutes from Matera, is reached from the SS. 7 in direzione Taranto fino al km 583 and following the "CEA / Visitor Center"