Sant'Agnese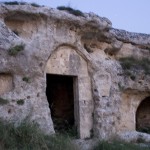 Menu> To visit
Jazzo Gattini (visitor center)
Visitare Parco Murgia Materana
Masseria Radogna (visitor center)
The Neolithic village
San Falcione
San Vito
Sant'Agnese
Our Lady of the Three Doors
Madonna della Croce
St. Nicholas Appia
Visit Matera
Sant'Agnese
About 300 but the right of Our Lady of the three doors you can reach the crypt of St Agnes.
Classroom presents a rectangular, niches on the walls adorned with simple, separated from the chancel through a round arch framed.
Note carefully the tank to the left of the Church, and especially on the channel and the base dug into the rock lead and filter rainwater from the upper plateau.