Excursions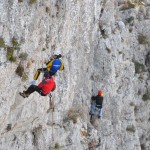 Menu> Excursions
Sightseeing
Belvedere trail
Great trekking
Trail crosses
Bike
In Basilicata, Matera and the Parco della Murgia Materana are a true paradise for lovers of cultural tourism and environmental. In particular pastoral trails and old dirt tracks represent the ' infrastructure along with fascinating excursions the murgia and the ravines around Matera to the discovery of cave churches and villages.
Hiking in Murgia Timone, the ' scenic area where is located the Cea, We propose the format already proven that invite you to consult: by Tourist visit a little more' a ' now accessible to all without any difficulty to BELVEDERE TRAIL and to the Trail crosses intermediate duration and layer simple hiking, until Great trekking about five hours for fans of walks.
However, you can arrange also other personalized itineraries based on specific needs and interests (Botany, Fauna, avifauna, Archaeology, Geology) throughout the ' area of the Park and Hill Matera. With the shuttle bus of the Cea are possible visits throughout the ' area of the Park, It has a total extension of about ' 8000 ha:and so it will be possible to achieve the most' nearby Tempa Rossa and Murgecchia and even the most distant of the female, the Woods and the municipality of Lucignano, l ' Ofra, the contrada Selva, the village Saraceno, the Valley of the Loe, the Gravina di Picciano and the Gravina of Bradano.
The best way to discover the Park then walk, but also lovers of the bicycle, Despite not having yet specific routes equipped, can, paper to hand and follow the directions that we provide directly at the visitor center, follow the dirt tracks that cross the ' protected area.
Finally, for lovers and experts Climbing, We can indicate near the beautiful falesia Emblematic Kittens equipped with 11 ascent routes.