Bike the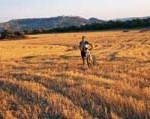 Menu> Itinerary
Tourist visit
Belvedere trail
Great trekking
Trail crosses
Bike
Bike
The area of Murgia Timone, crossed by a driveway that leads to the square in front of panoramic Sassi of Matera, is easily traveled by bicycle.
The asphalt path is nearly flat and so' an ideal route passable even by novice bicycle.
Inoltre per gli appassionati di mountain-bike e cicloturismo il centro visite potrà essere punto di partenza per itinerari più lunghi, alla scoperta sia dell'altopiano della murgia che delle dolci colline intorno a Matera, coltivate principalmente a grano duro e punteggiate dalle masserie fortificate e dalle case rurali della riforma fondiaria degli anni '50.
Contact us for any support and information and possibly to the bicycle rental service.
Special rates for groups, families