Matera and the Park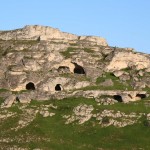 Menu> Matera and the Park
Geology
Prehistory
Rock churches
Rural structures
Flora
Fauna
matera
THE PARCO DELLA MURGIA MATERANA
Matera and the Park
The Sassi of Matera and facing the Regional Park of the Murgia Matera, included in the UNESCO list, are among the most spectacular rocky landscapes of Italy.
From the caves of the Paleolithic to the Neolithic villages entrenched, up to the cemetery from the Bronze Age, there are many prehistoric sites that tell the human presence in these territories, since time immemorial.
In the ravines, deep valleys that affect the limestone plateau of the Murgia , we find agropastoral villages carved into the rock,striking evidence of the technical architecture defined in the negative which is not built, but the field is removed from the rock, to derive architectural structures.
also 150 are the rock-hewn churches, differed in their architecture and iconography, that tell of a cross in the Middle Ages that has seen these sites greek Byzantine culture with the Latin world.
In a terrain so rugged that seems to reject the presence of man, amazing natural wealth includes approximately 1.200 botanical entity.
The low population density and isolation of some areas favor the presence of a rich fauna (fox, hare, porcupine, boar, Bobcat) but most important birds of prey like the red kite, Lanner falcon, the Egyptian vulture and especially of the lesser kestrel, the small raptor symbol of the Park.
Finally, there are also fortified farms,Jazz and fascinating paths carved into the rock to collect water in tanks, troughs and wells,evidence of secular development agropastoral.
In this area materacea and' engaged in a cultural awareness on environmental issues and services for sustainable tourism.