Prehistory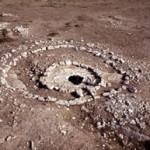 Menu> Matera and the Park
Geology
Prehistory
Rock churches
Rural structures
Flora
Fauna
matera
THE PARCO DELLA MURGIA MATERANA
Prehistory
The presence of man on the Murgia Matera is reported from the Lower Paleolithic to medium (400.000 years aCcirca) as amply documented by specimens collected at the turn of the nineteenth and twentieth century self-taught by the archaeologist D. Ridola decades of excavations conducted in different districts of Matera: Cave Bats, the Palomar, Sierra Marina, Selva Venusio, Serra S. Angelo, Pietrapenta, Mass. Zagarella .
It will, however, in the Neolithic (end VI Millenium b.c.) the area will be affected by early materana (and numerous) stable human settlements, organized as villages with walls and trenches for defense, dwellings (huts), was for food, ovens, Liquids,etc.: Neolithic villages are, located mainly along the north-eastern side murgico, inhabited by the first "farmers of Italy ' (Canosa) population that is engaged in agriculture, l'allevamento, grinding of stone axes, the manufacture of ceramics.
Among these villages (High Sierra l', Tirlecchia, Murgecchia, Murgia Timone) stands for the importance of Tras, recently the subject of extensive excavations, the imposing walls of defense (perhaps the oldest in Western Europe);
village covering, various events with the entire range from the Neolithic to the Bronze Age.
Equally important is the village of Serra D'Alto, whose "culture" is developed from the middle of the 4th millennium BC, up to the 3rd millennium, representing a new type of settlement of an agricultural / pastoral without fortifications (Canosa).
Buy instead of importance in the Bronze Age (2nd half of the 2nd millennium) and iron (until the eighth century. aC,) the village of Murgecchia. where homes can be found also with various environments square, often preceded by a portico; settlements as the urban area of Matera (Piazza S. Francesco, S. Nicola dei Greci). The climatic and natural events (repeated glaciations) before conditions strorico,prevented, however, these characters assume the continuity of settlements, and then completely 'urban'. (Jura Longo).
E 'from the Neolithic, then, that a person begins to give signs of ever deeper and wider presence in the originating Murgia Matera: from the trenches for the defense of villages, to grow (deforested areas of "matin"), pastures, the felling of the forests to get wood for the huts, as well as for everyday life.
Signs that were dell'aerale Matera, a piece of the territorial system Japigio-messapico that investing the entire geographic span of the ancient 'Apulia', arranged on a dense network of connections (tractors) demic among the centers involved: the Calabrian coast,over the course of the ancient Bradano, went back inside to Ginosa / Laterza and Matera district, where was inserted in the large cross Japigia Gravina / Altamura / Santeramo / Gioia del Colle, Egnatia (Fonseca).